Administrative Information
| | |
| --- | --- |
| Title | Introduction to Human-Centered AI |
| Duration | 60 |
| Module | A |
| Lesson Type | Lecture |
| Focus | Ethical |
| Topic | Ethics of AI |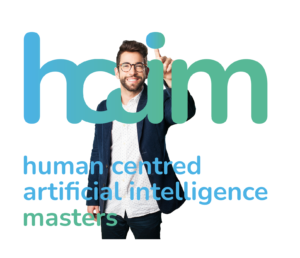 Keywords
Technology Regulation, Social Control of Technology, Technological lock-in, Future of Labor, Machine Ethics, Moral inclusion of machines, IEEE P7000,AIA
Learning Goals
Learner understands the motivations of AI Ethics studies.
Learner is aware of AI's lock-in potential.
Learner understands the historical context of modern technology regulation.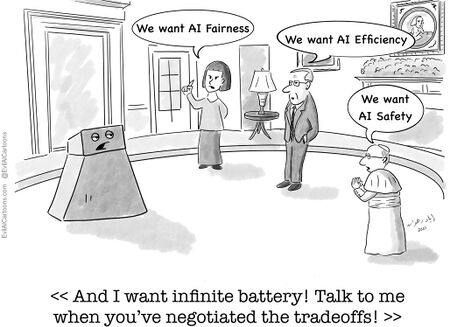 Expected Preparation
Learning Events to be Completed Before
We will be adding this content at the soonest.
Obligatory for Students
We will be adding this content at the soonest.
Optional for Students
Any sources on the history of 20th-century technology.
Background for Students
AI Ethics (Coeckelbergh): Introduction
EU AI Act Text
Text of IEEE P7000-2021
Recommended for Teachers
Stanford Encyclopedia of Philosophy (SEP), Machine Ethics: https://plato.stanford.edu/entries/ethics-ai/#MachEthi
SEP Automation and Employment: https://plato.stanford.edu/entries/ethics-ai/#AutoEmpl
SEP Artificial Moral Agents: https://plato.stanford.edu/entries/ethics-ai/#ArtiMoraAgen
Héder, M. (2021). AI and the resurrection of Technological Determinism. INFORMÁCIÓS TÁRSADALOM: TÁRSADALOMTUDOMÁNYI FOLYÓIRAT, 21(2), 119-130.
Coeckelbergh, Mark. AI ethics. MIT Press, 2020. Chapters: 1-2 (Intro & Superintelligence), 5 (technology), 9 (Bias). Other chapters are also very good but optional.
Ethics guidelines for trustworthy AI, https://op.europa.eu/en/publication-detail/-/publication/d3988569-0434-11ea-8c1f-01aa75ed71a1
Collingridge, D. (1982). The social control of technology. Open University Press.
Kazim, Emre and Koshiyama, Adriano, A High-Level Overview of AI Ethics (May 24, 2020). http://dx.doi.org/10.2139/ssrn.3609292
Instructions for Teachers
Topics to cover
History of social control of technology from WWII until the present time (15mins)

Why society wants to control more and more what engineers are doing

Why is it urgent now? (10mins)

A short history of AI and recent breakthroughs

The current wave of legislation and ethical guidelines (10mins)

Such as EU AIA, IEEE P70xx, OECD, UNESCO, WEF…

Why is this master important? (10mins)

Systematically learning about the ethics of AI

Short overview of the master HCAIM/Module A (15mins)

Goal: what will they know at the end, which capabilities will they practise, etc
What topics will be discussed during the course?
Lecture Videos
Further reading and overview of technology regulation
The ethical issues around AI are numerous and diverse.
These problems generated an especially large amount of attention from various groups, like policymakers, industry bodies, practitioners and the general public.
The most important de-jure or proto-de-jure and soft law outcomes of this attention are the following:
Some of the more important supporting theoretical documents:
Some derivative works with normative intent:
Acknowledgements
The Human-Centered AI Masters programme was Co-Financed by the Connecting Europe Facility of the European Union Under Grant №CEF-TC-2020-1 Digital Skills 2020-EU-IA-0068.
The materials of this learning event are available under CC BY-NC-ND 4.0
View this content in another language